At least now you will know that Jaws isn't the most terrifying thing out there. That's a comfort... right?
My god, it's a monster!
QUOTE
I work for a Sub-sea Survey Company, recently this beast came up attached to one of our ROVs. It measures a wee bit over 2.5 feet head to tail, and we expect it latched onto the ROV at roughly 8500ft depth. Unfortunately, the e-mail that these pictures were attached to came from a contractor, and the ship he was operating from (and therefore location) is unknown, so I can't tell you what part of the Earth this beast was living.

What is this, Reddit? Is it edible?
Answers revealed that this terrifying Independence-Day-alien-looking thing is a
Giant Isopod
-- related to your friendly neighborhood pillbug.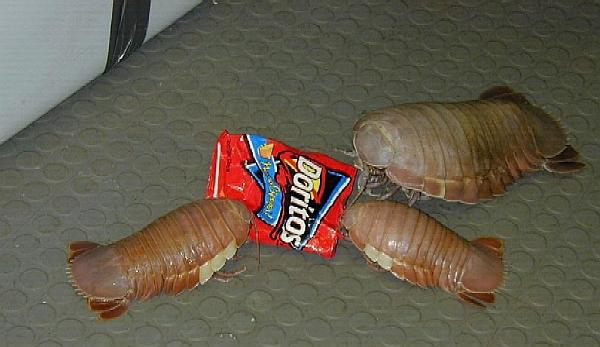 holy fuck, lol, and holy fuck, gah!
Other reasons to never go swimming in the ocean again:
The Black Swallower
Can swallow prey bigger than itself... so watch your head =/
Cymothoa Exigua - crustacean that eats a fish's tongue, and attaches itself to what little muscle remains and acts as the tongue itself, eating the fish's prey.
And if that doesn't show you the awe-inspiring awesomeness that is the ocean:
And then, of course, there's the no-picture-but-pants-shittingly-insane-if-you-have-any-imagination-at-all:
The Bloop
.
QUOTE
The unexplainable sound was detected several times during the summer of 1997, originating off the South American southwest coast at about 50° S 100° W. Each time that it was captured the ultra-low frequency sound rose rapidly in frequency over about one minute, and had sufficient amplitude to be heard on multiple sensors from over 3,000 miles away. Perplexed researchers, unable to identify any possible source for the sound, dubbed it "The Bloop."

The sound shares many characteristics with those emanated from biological creatures, in fact it fits those parameters so closely that a large number of researchers are convinced that its origin is animal. But in order for an aquatic animal to emit a sound that can travel over 3,000 miles though Earth's noisy oceans, scientists say that it would need an incredibly large noise-making apparatus, one much bigger than that of the blue whale.

Theories abound as to the source of the Bloop. If it is the vocalization of a living organism, it is one which makes its home in the dark, cold depths of the ocean. Some have suggested that giant squids could be responsible for the sound, but that is unlikely considering that no known species of cephalopod have the gas-filled sac necessary to reach such great volumes. Indeed science has not recorded any animals– living or extinct– with nearly enough size to house the organs needed to produce the level of output demonstrated by the Bloop… so unless this mystery creature uses some unknown mechanism to generate sound, it is presumed to be an incredibly massive organism.
The ocean is so fucking cool, i can't stand it.